It's time for the best Chicken Noodle Soup recipe that I created for the Crazy Cooking Challenge this month.
Tina from Mom's Crazy Kitchen hosts this challenge every month and the reveal date for the fifth month of the Crazy Cooking Challenge has finally arrived. I was excited to find out it was Chicken Noodle Soup as I had just whipped a batch for another challenge and decided just to find another soup recipe for that one which was still a month or so off in the distance. Plus, I love making soup at home, because I can control what goes into it.
To check out past months of the Crazy Cooking Challenge you can visit these links: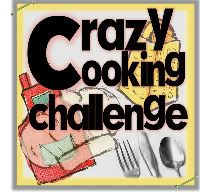 I found my recipe this month over on For the Love of Cooking. I chose this recipe, mainly because I like to make my own noodles so I needed a recipe that called for that. It turned out excellent and while I made a few minor tweaks, the recipe stands perfect on its own.
Here's the recipe:
For the soup:
8 cups homemade chicken stock (or store bought)
1 tsp olive oil
½ onion diced
1-2 cloves of garlic diced finely
1 ½ cups of carrots diced
3 stalks of celery diced
2 tsp good chicken bouillon (I use Herb Ox)
1 bay leaf
Sea Salt and fresh cracked pepper, to taste
½ tsp dried thyme or basil
1 ½ cup cooked chicken diced (I use meat from leftover roasted chicken)
Fresh parsley, chopped
Sauté onions in olive oil until soft, about 3-4 minutes. Add garlic & cook for 30 seconds. Add broth & the remainder of ingredients. Cook over medium low heat for 1-2 hours.
For the noodles:
2 cups of flour
¾ tsp salt
1 egg
¼ to ⅓ cup of milk
In a medium mixing bowl combine the flour, salt, egg and milk. Mix until you produce a slightly sticky ball of dough. Flour the counter and roll out dough to ⅛ inch thickness. You want them very thin because they thicken when cooked. Cut noodles (I use a pizza cutter) to desired size and place on wax paper. Let the noodles dry out on the counter for at least 1 hour before adding them to the soup.
About 30 minutes before serving soup, drop noodles in and cook. Add some fresh chopped parsley right before serving. Enjoy.
Check out the other recipes in the challenge: