Oh this wonderfully, beautiful salad screams Spring and at a time I am desperate for a change in weather.
It was all destined to be the death of me.
I make these salads all the time and the one depicted in the picture is one of my favorite ways to do it. However, when I decided to do it for today's Spring themed #SundaySupper, I guess I got a little excited to soon.
You see, the very day I signed up, I knew I wanted to make one. I hadn't had one since summer, and was craving that sweet strawberry flavor.
So I made one. See…
Strawberry Avocado Spinach Salad with Strawberry Vinaigrette
Except, I forgot a few ingredients. Where's the avocado, one of the key ingredients? But the Strawberry Vinaigrette turned out amazing so I enjoyed my salad without all the bells and whistles. I knew I just needed to get some avocado and we'd be fine.
Good thing I like the salad so much. It was time to make it again. And this time I had just gotten a large bag of meyer lemons and I though, hmm…. some sliced Meyer Lemon sounds good in that salad. Yes, that is what I will add when I add the avocado.
And I made it again. I love the pretty colors and the way the Meyer Lemon slices look in there. So pretty and the salad tasted amazing.
This was two days after I whipped up the vinaigrette. As you can tell it was thickening a bit being in the fridge. But the salad was so good.
Except, I forgot something. As I was stuffing my face with bite after bite of the delicious flavor combination, I realized I had forgotten something I adore about this salad. I forget the sliced almonds. That crunch I like with each bite.
Guess what that meant? Yep – I had to make it again. This one was 5 days after the original vinaigrette was made. It was NOTICEABLY thicker but oh so very good. In fact, it did see to get a better flavor with age, however the consistency was just really thick. This really didn't bother me, since when I tossed it all about, the dressing really coated the spinach leaves and it was just a wonderfully, flavorful salad.
So as you can see, it really doesn't matter what you add to it, because it's just a great salad to do whatever with. I purposely chose Spring ingredients to fit our #SundaySupper theme, but you could toss in any veggies you wanted and enjoy an equally delicious salad.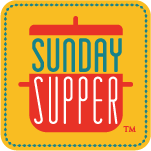 My friends and fellow #SundaySupper team are eager to celebrate Spring as well. Just look at these wonderful dishes they've brought you today!
Green and Spring Dishes Menu Includes:
Breakfast
Apps, Bread, Salads, Soups and Dressings:
Main and Sides:
Desserts:
Beverages:
Guinness Beer Milkshake by The Urban Mrs
Wines to Pair with Springtime #SundaySupper Dishes by ENOFYLZ Wine Blog
Please be sure you join us on Twitter throughout the day during #SundaySupper. We'll be meeting up at 7:00 p.m. EST for our weekly #SundaySupper live chat where we'll talk about our favorite Springtime recipes!
All you have to do is follow the #SundaySupper hashtag, or you can follow us throughTweetChat!