The reveal date for the second month of the Crazy Cooking Challenge has finally arrived. I've been waiting for this one for awhile. Yay!
Please 'like' my cookie on the linky below (it's #71). Thanks!! 🙂 You can 'like' more than one!
Last month's Cooking Challenge was a quest to find the Ultimate Macaroni and Cheese and let me just tell you, I did. I was hoping this month would be just as amazing. It actually proved to be a little more of a challenge that I thought it would be. Do you know how many dry Chocolate Chip Cookie recipes are running around the blogosphere? I tried several recipes before dubbing this one, the Ultimate Chocolate Chip Cookie recipe. In fact, it had to get the stamp of approval from all 7 members of my family. And that it did.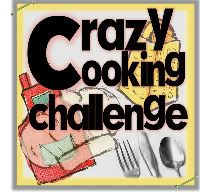 My recipe for the Crazy Cooking Challenge this month came from Smitten Kitchen, which is one of my favorite food blogs. She has such amazing recipes, and I knew she'd have a chocolate chip cookie recipe I could try.
She has a couple of different chocolate chip cookie recipes, but there was only one I was setting out to try. She calls them Crispy, Chewy Chocolate Chip Cookies but we renamed them for our family. Dark Chocolate Butterscotch Chocolate Chip Cookies (yes, it's a mouthful… of goodness!)
So, how did I select my Ultimate Chocolate Chip Cookie recipe? The number one thing that a really good chocolate chip cookie has to have is a good cookie dough. If the dough isn't good, you're not going to have good cookies. Period. You can change the chips, add nuts, etc… controlled ingredients, but if the cookie dough isn't any good, then you're not going to have a good cookie. The second thing I needed the recipe to be, is easy. It needs to be something that without a lot of time, I can whip up a batch. I'm a busy mom. I need my extra minutes.
Once I found this recipe, checked out the ingredients – I knew I'd found a winner.
Dark Chocolate Butterscotch Chocolate Chip Cookies
modified from Smitten Kitchen
What you need:
2 c. all-purpose flour
½ tsp. baking soda
½ tsp. salt
¾ c. unsalted butter, melted
1 c. packed brown sugar
½ cup white sugar
1 Tbs. vanilla extract
1 egg
1 egg yolk
1 c. dark chocolate chips
1 c. butterscotch chips
Preheat your oven to 325. Line your cookie sheets with parchment paper (which I am out of) so in that case, grease your cookie sheets. I will tell you I have better results with shortening then I do with cooking spray. Just sayin'
In a bowl, sift together the flour, baking soda and salt. Set aside.
In a medium bowl, cream together the melted butter, brown sugar and white sugar until well blended.
Next, beat in the vanilla, egg, and egg yolk until light and creamy.
Mix in the sifted ingredients until just blended. It was at this point, I knew I had something with the cookie recipe. The color was pretty, the dough was extremely moist rather than harder and stickier like many other cookie recipes. I was hoping this wouldn't make the cookies a mess, but would at least be enough to hold them together.
Now the fun part, stir in the dark chocolate chips and butterscotch chips by hand using a wooden spoon.
Mmmm…. look how pretty that is? Perfect for this time of year. Nice and colorful. Get the chips all mixed into that yummy dough.
Next, use a mini ice cream scoop to drop cookie dough onto your prepared cookie sheets. You want to keep cookies about 3 inches apart.
Bake cookies approximately 10-15 minutes. Here's the the thing I found. On Smitten Kitchen she referred to ¼ c. of dough being for large cookies, and a table spoon or two being for smaller cookies. Temperatures are depending on this, but I will tell you – after the first batch, which probably stayed in the oven about a minute or two, too long – the next two batches I watched like a hawk beginning at about 10 minutes. Most times, the cookies came out about 12 minutes or so. You need to be the judge. You really don't want to overcook these. Cool on baking sheets for a few minutes before transferring to a wire rack to cool completely.
If you'd like to eat one of these puppies warm, but they are already cooled, I popped individual cookies in the microwave for about 15 seconds and they were perfect. So awesome. The flavor is delicious, the cookie is soft and moist on the inside with a chewier ridge. SO good. Perfect with a glass of milk before bed!
---