It's Monday! Hope it's the beginning of a great week for all of you and that you had a wonderful weekend. It's time once again, for This Weeks Cravings and our theme this week is Picnic Foods. In other words, what would you take with you on a picnic? We're looking for new twists on picnic foods, or even just traditional picnic food recipes.
This fruit salad is delicious and really doesn't even need to be prepared ahead of time. I will warn you however, it has a lot of coconut flavor, so if that's not your thing Рyou won't like it. But if you do love coconut, this delicious salad is for you. It is so good;  creamy whipped coconut milk smothering fresh fruit slices, and the best part is Рyou can add and delete any fruit you want.
Ingredients
1 can of coconut milk made into Whipped Coconut Milk Cream (see recipe below on how to make that)
2 Tbs. powdered sugar
1/4 c. coconut flakes (sweetened or unsweetened - your choice)
3-4 Kiwi, Sliced
2-3 c. strawberries, sliced
2-3 lg. bananas, sliced
1 c. pineapple (you can use canned pineapple but be sure to drain completely)
1 can mandarin oranges (or you can slice up fresh oranges)
1 c. halved cherries, remove the stems and pits
Instructions
Whipped Coconut Milk Cream:
You need to chill the cans of coconut milk overnight in your refrigerator. When you're ready to make the salad, open the cans and drain off the clear liquid. Transfer the cream to a mixing bowl and beat for about 1 minute. Add the powdered sugar and continue beating until the coconut cream is nice and thick and fluffy.
Putting it all together:
Add all of the fruit to a large bowl. Sprinkle the coconut flakes on top. Gently fold the whipped coconut milk cream through the fruit.
For best results refrigerate for at least an hour or two, but its not necessary - tastes just as yummy fresh, but the cream is a little looser. Enjoy!!
http://dailydishrecipes.com/whipped-coconut-milk-fruit-salad/
ÃÉ�Ãā© www.dailydishrecipes.com
I am proud to be co-hosting This Week's Cravings along with Tina over at MOMS CRAZY COOKING  & Kristi from Veggie Converter. Go visit them and tell them I said hi!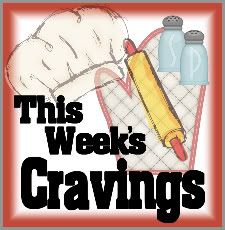 Here's what's coming up:Participate in upcoming linky parties:
4/30/2012 Week # 79 Mexican Food 'ÄúCinco de Mayo'ÄĚ
5/7/2012 Week # 80 Mother's Day (Brunch Ideas or MOMS FAVORITE Foods)
5/14/2012 Week # 81 EGG recipes…Casseroles, Egg Dishes, Hard Boiled or Appetizers
5/21/2012 Week # 82 Memorial Day BBQ 'ÄúALL RECIPES WITH BBQ SAUCE or GRILL'ÄĚ
We hope you'll participate in upcoming linky parties.
Would you like to link up a Picnic Recipe? Go ahead! We'd love to see what you've made.
If you are a regular link-up we're excited to see what you made this week. If you are new please read and follow the simple rules, so that everyone can enjoy the linky party and your recipe doesn't get deleted! It's so easy!
If you forget to follow the theme, your post will be deleted. Please don't feel hurt, just come back and link up a recipe that follows the theme. Thanks a million, we look forward to blogging with you!
The LINKY PARTY is opened ALL Week!
PLEASE do not link more then 3 recipes per week.
This week's theme is: Picnic Recipes
Please only link recipes with our theme!