It's time for This Week's Cravings again. I am absolutely loving this.
Our theme this week is Thanksgiving Dinners and Desserts. I am very proud to be co-hosting This Week's Cravings along with Tina over at MOMS CRAZY COOKING, Kristen from From My Tiny Kitchen, Angie from Big Bear's Wife  & Kristi from Veggie Converter.
So have you made any Thanksgiving Dinners and Dessert recipes lately? Want to link up? Yes, you – if you have a Thanksgiving themed recipe, link it up down there at the bottom in the linky. It will be awesome. (make sure you read the simple rules first). And make sure it's a Thanksgiving themed dinner or dessert.
Now, onto mine. Mine is not really a traditional Thanksgiving side dish, but we only make it at holidays. I can't really explain why, except the cream sauce, which we like a lot of on our veggies isn't the most calorie dense sauce and so it's not something I would make multiple times a year. Along with the turkey, homemade stuffing, sweet potato casserole and bacon ranch potatoes, this dish will be served on Thursday and my kids are actually excited (who's kids are excited to eat veggies?).
Veggies with Creamy Garlic Parmesan Sauce
1/2 lb. (2 c.)  fresh broccoli, cut up into small pieces
2 c. cut up carrots (we just use the baby carrots)
Creamy Garlic Parmesan Sauce (see recipe below)
1 Tbs. Fresh Chives, chopped
Heat about an inch of water to boiling in a saucepan. Add the broccoli and carrots. Heat until it is boiling again.
Boil for about 5-7 minutes or so until the veggies are crisp-tender. Drain them and keep them warm. I usually make the sauce while the veggies are cooking. Serve the veggies in a small side dish or on the plate. Top the veggies with the Creamy Garlic Parmesan Sauce and then sprinkle about a tablespoon of fresh chives on top. Yum!!
Now, to make the yummy sauce:
Creamy Garlic Parmesan Sauce
1 (3oz.) pkg. of cream cheese
1/4 c. parmesan cheese
1/2 tsp. minced garlic (you could also use garlic powder to get the flavor)
1/4 c. milk
1 Tbs. butter
Cook all the ingredients in a saucepan over medium heat. Stir constantly, seriously otherwise it sticks to the pan. Stir until smooth and heated all the way through.
This is tasty enough to make anytime of year, but we especially enjoy it at Thanksgiving and Christmas.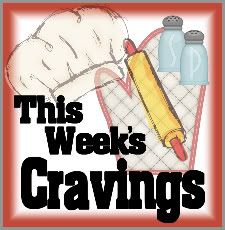 Participate in upcoming linky parties:
11/28/2011    Week # 57    French Toast, Pancakes, Waffles & More
12/05/2011 Week # 58 Christmas Baking: Sweets, Treats, Candy & Gift Ideas
12/12/2011 Week # 59 Macaroni & Cheese
12/19/2011 Week # 60 Christmas Dinners & Holiday Food Traditions
12/26/2011 Week # 61 Appetizers & Party Platters
This is a BLOG Party hosted by MOMS CRAZY COOKING, From My Tiny Kitchen, Big Bears Wife, The Daily Dish and Veggie Converter.
If you are a regular link-up we're excited to see what you made this week. If you are new please read and follow the simple rules, so that everyone can enjoy the linky party!
If you forget to follow the theme, your post will be deleted. Please don't feel hurt, just come back and link up a recipe that follows the theme. Thanks a million, we look forward to blogging with you! The LINKY PARTY is opened ALL Week!
---
PLEASE do not link more then 3 recipes per week. This week's theme is: Thanksgiving Dinners and Desserts Please only link recipes with our theme!
---
This week's theme is: THANKSGIVING DINNERS AND DESSERTS Please only link recipes with our theme!
This post is linked up with: Melt in Your Mouth Monday, Made By You Monday, Mangia Mondays, On The Menu Monday, Muffin Monday, My Sweet & Savory Meatless Mondays, Homemaker Monday,